The autumn of 1978 was a golden one in my life.
After spending the summer studying singing in Austria, I returned to the States and to the reality that my parents had retired and were selling our home on Long Island.
The upside of this news was that the new owners, David and Elisabeth Gray, were a truly fascinating couple from the UK: Elisabeth described herself as a Yorkshire Lass, while David was pure Scots. We hit it off from the moment they first viewed the house, and, at the closing, they made it clear that I would always be sincerely welcomed to visit.  They filled their new home with two things that immediately caught my attention:  quality antique furniture and gorgeous paintings of old battle scenes in which famous Scottish regiments took part.  David proved to be an astute collector of both.
I had been fascinated by all things Scottish since first seeing and hearing a regimental pipe band at the age of 6.  My dad, a naval aviator, was stationed at the Pentagon at the time.  One fine summer evening, he took us to the Sunset Parade at the Marine Barracks in Washington, D.C. It happened that on this evening, besides the Marine drum and bugle corps, a presentation was to be given by the pipe band of a Scottish regiment. Ever since, I had been nursing a desire to learn to play the pipes and had finally begun lessons early in that busy summer of '78. Going a giant step further, I had taken up not only the pipes, but arms as well, and had joined an American Revolutionary Re-enactment Group.  Not only was I learning to play the pipes, but I got to do so while marching and fighting, fully robed in an accurately-reproduced 18th -century uniform of the famous Scottish regiment, The 42nd – Black Watch. That I was basically a beginning piper didn't seem to bother anyone. After all, it is difficult to determine a budding piper's proficiency when he is surrounded by black powder muskets and standing next to a roaring cannon. (And, probably just as well.)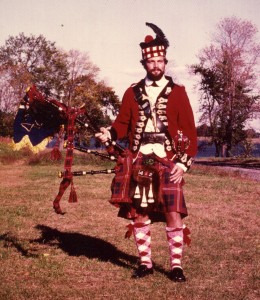 So, one crisp afternoon that autumn, after a day spent musically accompanying my comrades as they "shot" colonists on the village green, I went to visit David and show off my uniform. I knew he would be tickled, as he had served in the real Black Watch during the Second World War, as had his father in the First, and his grandfather in the Boer War.
Upon arrival at the house, I decided to subtly announce my presence by stepping out of the car and playing a few of my beginner tunes on the pipes. It worked, as David and Elisabeth soon emerged from the house and listened politely. When I had finished my impromptu recital, David smiled, took the pipes from me, and proceeded to play the same set of tunes I had just played … but as they were meant to be played. 
The author as a piper with the 42nd
"Right," he said, "That's how that is to be done. Now, let's have a wee dram, or two."  I wasn't sure exactly what a dram was, but I sensed it might have something to do with adult beverages, and my initial concern that it was only to be a wee one was mollified by the fact that he'd mentioned having two.
Well, the dram or two, of course, referred to single malt Scotch.  I told David that I was totally unfamiliar with this libation. This was 1978, after all, and the suddenly-huge popularity of single malts in America was still at least a decade away.  I explained to David that all I'd drunk at college was beer and bourbon (I went to school in the South, bless my heart.); that my only post-college experience with Scotch had been limited to a self-imposed and disgusting blend of Cutty Sark and 7-Up; and that my desire to repeat the quaffing of any form of Usquebaugh had sunk after one glass. At this point, he got the same sort of look on his face as he'd gotten earlier while politely listening to me play the pipes, only more pitying. He took me by the arm and said, gently, "Then you shall now become educated, Laddie."
It turns out that one of the more dubiously exciting aspects of the Grays' move from the UK to the USA had been the apparent loss of a container of their property. It was especially distressing to David because it contained his collection of Single Malt Scotch. Much to his relief, the errant container had eventually been located, and, thus, he was able to display on the dining table a range of bottles with the most romantic, yet lacking-in-vowels, names I had ever heard. Many of the labels were quite yellowed with age, and it was clear that portions of this collection had been around for a long time.
The first thing I was taught was the proper pronunciation of an equally vowel-starved word: "Slàinte!" The French would translate this as "à votre sainté" – to your health.  We Americans would say, "Here's mud in your eye." (And people say we aren't classy!) Once I passed muster on the pronunciation, it was on to the liquid.
Perhaps jumping right into the deep end was David's way of clearing my palate of the taste of "Sark & Seven."  I suppose he wanted to properly baptize me (in salt water), and so the first whisky we tasted was Laphroaig.  He showed me how, using proper glasses, to gently approach the upper edge of the snifter with my nose to allow the aroma to come to me. I wish I could say that upon my first whiff I immediately heard the skirl of pipes or the overture to Brigadoon playing in my head, but my first thought was, "Cripes, it smells like a bag of wet peat moss….why would anyone want to drink this?" Realizing that I'd already sunk in David's estimation by mentioning a label of Scotch with a ship on the bottle, I kept that thought to myself.  The first sip was…..well…..anyone reading this that has drunk Laphroaig will undoubtedly remember his or her first sip. The only word I can use to describe it is indescribable. It was certainly wildly different from anything that had previously crossed my 25-year-old palate.
And so, we worked our way through four or five different single malts. The range was amazing: Islay, Highland, Speyside … the romance grew with each new name. I felt as if I were sipping a Sir Walter Scott novel.
But, there was one I kept coming back to as my favorite: The Balvenie. I have no recollection of what bottling it was. I do remember that there seemed to be handwriting on the very-yellowed label, and to my then uneducated palate, it simply tasted the best and happily reinforced the idea that I had now become a Scotch drinker.
As the months went by, we had more tasting sessions, usually accompanied by remembrances of evenings in the Officers' Mess and the rich traditions practiced there. David mentored me to the point where I could differentiate a single malt from one section of the country from another without looking at the bottle. I know this pleased him … even more than my vow to never mix anything with my single malt…especially 7-Up.
 Over the years my opera career took off,  and the Grays eventually moved back to the UK, and, finally, to retirement in Scotland.  It worked out well, as whenever I was singing in Europe, I would make a side trip to see them where tastings would continue. These trips were always more fun when my "winsome wee" wife, Diane, could accompany me.   
David did not take the word "retirement" very seriously. He had embraced his love of fine craftsmanship and antiques by setting himself up in the business of restoring and selling antique furniture. I had been a wood worker in my youth and was fascinated by what he was doing. Clearly, it left a huge impression on me, because, in 2000, when I decided to leave the opera business, I set up shop restoring antique furniture myself!
The author at Santa Fe Opera
Diane with the Grays in Scotland
As with the single malt Scotch, David proved to be an invaluable tutor on the subject of antiques, despite being 3,000-plus miles away. We kept in close touch, and he seemed to take as much pride in my progress as a conservator as he had in my progress as a connoisseur of malt whisky.
Sadly, cancer claimed him a few years later. I need not say what that felt like. I was unable to make it to the funeral but got a full report from Elisabeth. David had been laid to rest on a hill behind the "wee kirk," and his interment had been accompanied by a piper from the Black Watch just returned from Iraq. Upon hearing this from Elisabeth, I hung up the phone, poured myself a large dram of The Balvenie, put on a recording of the iconic and haunting piping funeral marches, Flowers of the Forest and Mist Covered Mountains, and sat reflectively at my work bench with a tear in one eye and a smile in the other, very fondly remembering my first sip of that amazing whisky and the man who had done so much to guide me.
But, dear reader, the story is not over.  I continued enjoying The Balvenie and continued restoring antiques. Over time, my appreciation of fine furniture grew to the point where I wanted to start making furniture of my own design, which led to the purchase of a lathe.  One day about four years ago a new muse seemed to settle upon me. I had a whim to make a piece inspired by my childhood in Japan (That's another story, but will have to wait.). Well, that whim and that piece birthed an artistic awakening that has led to a career in fine craft. I began exhibiting my work at some of the higher-end fine craft shows around the country run by the American Craft Council. So, imagine my happy surprise when I found out that, due to an appreciation of hand craftsmanship, be it in wood or whisky, none other than The Balvenie had teamed up with the ACC and was holding tastings at the shows!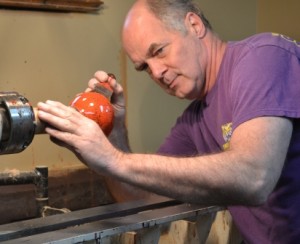 My first happy experiencing of this show/tasting pairing came at the ACC show in San Francisco last summer. Over the course of four days, I sat in on three tastings with the adroitly whisky-ly-educated and enthusiastic Balvenie ambassador, Jonathan Wingo.  I quickly learned two things: First, as helpful as David had been as a tutor, I didn't really know diddly about why single malt tastes the way it does. Secondly, it became clear why The Balvenie is considered the most hand-crafted (and lovingly so) single malt.  It is simply astounding that any company in this day and age of computer-speed commerce will take the time to really do something right. It's as astounding as the time that my fellow artisans take to craft their pieces. And, just as in fine craft, taking the time brings forth the quality.
An added benefit to the Balvenie presence at the show was getting to meet Lorne Cousins, the Balvenie ambassador for the western USA and also a world class piper. I told him about my early Scotch and piping experiences with David, and his first question was, "Do you have your pipes here?"  I replied that soon into my opera career I'd had to give them up because I'd found the type of breathing required for piping conflicted with that of full-bore opera singing. He said, "But you're a craft artist now and no longer on the opera stage….am I right?"  I nodded yes, and he said, "Then why are you not playing the pipes?"Well, suffice it to say that, thanks to Lorne, I have since returned to playing the pipes and, hopefully, applying 25 years' worth of music-making knowledge to the endeavor. There is a real joy in making music purely for the love of it, and I feel like a portion of my life that had been lacking has returned.
So…happy ending? Wait…still not quite done ……
While exhibiting at the ACC Atlanta show earlier this year, I had a chance to sit in on more tastings with Jonathan. The man's passion for what he does is contagious, inspiring me to expand the range of my Balvenie collection. (Also, it should probably be added that in order to help sell raffle tickets on behalf of the ACC, I made a totally impromptu (and possibly ill-advised) return to public singing by standing in the Balvenie tasting booth and belting out a Scottish drinking song….preceded by a healthy dram of Balvenie Double Wood, which was imbibed in an attempt to quickly blow off 13 years of accumulated dust from my vocal cords.)
So, other than practicing my piping, and sipping and enjoying my growing collection of single malts, I thought my connection with The Balvenie were over until I could attend more tastings.
Hardly!  It seems they are just getting started.
Imagine my amazement when last month an email popped into my inbox one afternoon telling me that my work had been chosen by Dario Franchitti to be part of the Balvenie Rare Craft Tour for the autumn of 2014. My very first thought was, "Wouldn't David be thrilled!"  Somehow I'm sure he knows.
Slàinte!