Last summer, I was invited to exhibit at the American Craft Council show in San Francisco. I was very excited at the prospect, as my wife had never been to that fair city, and I had not been there since 1959, when my family and I had boarded a ship to sail across the Pacific to our new home in Japan.  I was even more excited when several of my pieces were selected for an exhibition at a pre-show event at Room & Board.  To top it all off, a panel discussion about the marriage of craft and design was to be led by HGTV's design guru, Vern Yip.
 A room setting in the store was to be accessorized with my pieces, and I was instructed to select ones that would "make a statement." Well, anyone who knows my work would probably say that it makes a statement even with the lights turned out. Inspired by my childhood in Japan, many of my pieces tend to be red. Allow me to repeat, my work tends to be RED! In one case in particular, not only is it red, it is BIG. That case would be my Meiji Ceremonial Candlesticks, which have been dubbed by Pamela Diamond of the ACC as "The Big Ass Candlesticks." After all, they stand a full 34" tall without candles.
The pieces had been arranged at Room and Board by a very talented designer named Joe Darling (who was, in fact, darling).  As my wife, Diane, and I walked in, we began to hear the buzz:  "Vern loves your candlesticks." I was tickled. The ante was quickly upped with the news:  "I think Vern wants to buy your candlesticks." Needless to say, I was beyond tickled.
A little while later I had an opportunity to meet and talk with Vern. You might wonder what an artist talks about with a famous designer. Color, texture, surfaces?  Did we compare notes on his being born in Hong Kong and my growing up in Japan? No …. we talked about kids. Of all the things I'd learned about Vern, the fact that he and his partner, Craig, have two gorgeous children, and that Vern is a UNICEF Ambassador were the facets of his life that interested and impressed me the most. Seeing the way his face lit up when he talked about kids, especially his own, sold me on this man for life. 
But, back to the candlesticks. Vern was very complimentary about them, as he is a big proponent of handmade fine craft. Indeed, he bought them for his own home, but agreed to leave them in my booth for the duration of the ACC show, after which we would ship them to him. Super! Happy ending.
 Well…not quite yet.
The candlesticks graced our booth for the next three days and received a lot of attention. The red dot indicating that they were sold prompted many raised eyebrows.  The fact that they'd been sold to Vern Yip elicited lots of ooh's, ah's, and dropped jaws.
The show ended on Sunday evening, and we packed up our pieces to be shipped back to NYC, all except the candlesticks. Those we took back to our hotel room to be shipped the next day.  Now, when I say we took them back to our hotel room, I should clarify that we (we being I) carried them. We could not find a cab, and there were no direct buses. I don't think I'd ever realized just how BIG the "Big Ass Candlesticks" were until I schlepped them the full mile, uphill (all of San Francisco is uphill…..even the downhill seems like uphill) back to the room. We attracted a lot of attention on the trek. Walking past one bar, a young lady came out, practically accosted me, and asked what she'd "have to do" to own a set of candlesticks like those. (I'm not making this up.) I was tickled. Diane was not.
 The next morning we looked in the phone book (yes, we should have Googled, but the wifi in the hotel worked as if it were going uphill.) and found a shipper, who shall remain nameless, that we could get to by mass transit.  So, I again shouldered the candlesticks, and we boarded a bus.  We arrived at the stop closest to the store and walked the rest of the way. Yes, it was uphill.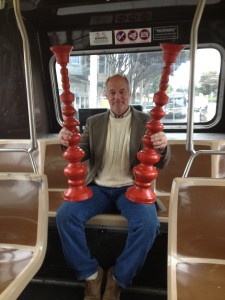 Upon arrival at the "store," we were greeted by a very sweet, somewhat elderly woman who assured us that we'd come to the right place, as they "did everything the old-fashioned way to make sure it was done right." This gave me a bit of a queasy, prescient feeling, but we carried on. As they didn't have a card reader, she wrote down my credit card number on a paper bill of lading with carbon copies. She read the number back to me, and it seemed fine. Maybe old-fashioned was OK.  She took our home phone number, as it is the number associated with the credit card, and Vern's phone number, just in case. She assured us the boxes would be expertly packed for the cross-country trip, so we said our goodbyes and headed off, uphill, to explore San Francisco.
We had a wonderful day seeing the sights and actually relaxing. After all, we'd had a great show, made a lot of great contacts, and had even sold a set of candlesticks to Vern Yip! All was right with the world.
We decided to end our day as tourists inside Grace Cathedral, knowing that the windows would be glorious with the setting sun shining through them.  Inside the cathedral there is a labyrinth inset in the floor, which can be walked as a means of meditative prayer. A very dear friend of mine was ill at the time, so I decided to walk the labyrinth bearing her in mind and heart. I got about half-way through when I suddenly felt a buzzing sensation. I thought, "Wow, this must really be working."  It took me a moment to realize that this was not a sign from Heaven but, instead, my new cellular phone which I had inadvertently set to vibrate. I glanced at the number and, not recognizing it, silently uttered some expletives, then turned the phone off to return to my meditation.  I began the labyrinth again and had just about achieved a quasi-meditative state when Diane's phone not only vibrated, but began to ring … loudly … echoing throughout the cathedral. She bolted for the door, while I voiced a few additional expletives completely inappropriate for the surroundings.
She very quickly stuck her head back inside the door, frantically motioning for me to come to her and began silently mouthing words…..something about a turn and a ship. What? I was all at sea as to what she was trying to tell me. She mouthed it again. I finally got it: VERN YIP!!! WHAT??????!!!!!
My fantasy had been that the next time I heard Vern's voice he'd be saying, "My colleagues just love these candlesticks….can you make 50 sets?" Instead, it was, "Hi, this is Vern Yip. I bought a set of candlesticks from you the other day, and the shipper just called to say your credit card is no good." Have you ever heard the expression, "My blood froze in my veins."? Now I know exactly what that means.
To make a long story short (well, sort of short), in the process of transcribing the old-fashioned way, Madame at the shipping store had managed to transpose two of the numbers on my credit card. Unable to reach us at our home number, she'd called Vern!  Great way to make a good business impression, eh? We called the store, and, thankfully, someone a tad less vintage answered. She knew right away who we were, corrected the credit card number, and sent the candlesticks on their way.  Thankfully, they arrived safe and sound a few days later, and now have a new home at Vern's beach house. 
We were just getting past the drama of the whole thing when we finally arrived back home to find the outdated message on our phone machine from the antique shipping woman telling us that we'd given her the wrong credit card number. I was tempted to return her call and tell her to take a hike….uphill!